By FUSE Autotech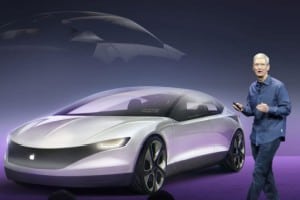 Speculation about Apple entering automotive abounds. Will they only provide an automotive iOS for others to integrate? Will they build an electric passenger vehicle for drivers? Or, will they jump straight to autonomous vehicles? Analyst Ming-Chi Kuo believes a car will be Apple's next star product and arrive in 2025 at the earliest. Reuters is quoted as saying Apple may begin production in 2024.
Let's put the vehicle aside for the moment and imagine the retail experience Apple would create. Franchise automotive dealers may benefit from a thought experiment that predicts how Apple will retail vehicles. What can we learn from this thought experiment? What can we begin implementing today?
It starts online
It's not hard to imagine an Apple Car website. It would be product focused, clean and exciting. Pop-ups? Of course not. Lead forms on every page? Highly doubtful. Transparent pricing? Sure, pricing would be clean and simple without conditional rebates and complex "math boxes". My guess is that Apple will not focus on digital retail as much as driving shoppers to pre-order (yes, it is good to be Apple) and then visit a physical showroom. An Apple automotive website will make the product the star, and provide two simple paths for shoppers: learn more or buy. An Apple automotive website will be visually stunning to appeal to our emotions and provide clear messaging about innovation to appeal to shoppers' rational side.
What can dealers do?
Declutter your website and then declutter some more. Use Google Analytics to see where shoppers are spending their time. If shoppers don't value your web content then remove it. Be ruthless. Most dealer websites have become bloated. Shoppers want to know: Do you have it? How much? How do I get to your dealership? Check your Google Analytics page views reports and I'll wager you'll be shocked at how few pages receive meaningful visitors.
Focus on images. Take beautiful pictures of your vehicles. Install a studio if you can. Hire a professional to take pictures of your facility and your staff.
Pay attention to graphic design. If you don't have the capability in house then hire a freelancer to make every page beautiful, professional and in alignment with your dealership and OEM brand. Remember that you bought a website based on a template. You need to merchandise that template to distinguish your dealership. Sites like Fiverr and 99 Designs provide project based design services at very reasonable costs.
Shoppers will form an impression of your dealership based on the graphic appeal of your site and how easy it is to shop for a car. Beautiful + easy to use, that's the formula.
And finally, present price and payments as the next logical step in the process not simply as a lead generator, not as a trade-off of payment information for shopper personal information. Shoppers are looking to get sufficient information to make a purchase decision and not be forced to barter their personal information for the next bit of transaction pricing. Manufacturer MAAP pricing makes this hard but we can do better and not lay a "digital bear trap" in front of every single piece of valuable information.
In store experience
Consider that there may not be an easier product to sell online than an iPhone. Yet, Apple has built 510 retail stores because they understand this is where the most powerful brand experience is created. The combination of a beautiful environment, friendly product experts and the ability to learn about the products in person has accelerated sales and built customer loyalty.
In an Apple automotive showroom we can imagine that the car is the star. There will be plenty of room to walk around the vehicle and the lighting will be dramatic. Technology will be demonstrated in kiosks or on iPads held by geniuses.
Apple product specialists will be friendly and empathetic. They will look neat, clean and dress in a casual uniform. Managers will not be in business suits and there will be no obvious hierarchy. Everyone is there to help a customer. Apple employees dress like they are selling an exciting lifestyle product not like they are working in a bank
One of the first things you notice in an Apple store is the housekeeping. These stores are spotless and organized. There is a place for everything and everything is in its place. In short, Apple has a merchandising plan. In an Apple dealership the showroom is a theater where a compelling show featuring the Apple brand is performed daily. The stage is set, the props are deployed, the actors are costumed and they know their lines. Retail is detail and not much happens by accident in an Apple Car store
Backroom functions and the clutter that goes with running a retail store is kept in the, you guessed it, backroom. Apple Specialists don't turn the showfloor (theater) seating areas into their personal desks with post-it reminders, cat pictures, yellow pads and water bottles. Remember this is theater and we're putting on a show for everyone who enters.
Apple Specialists will be able to transact a car sale using an iPad or Macbook. In some cases they may need assistance from an Apple Ownership Genius if the financing is complex. Specialists will recommend AppleCare. Their offerings will be simple: a VSC called AppleCare, a VSC and paint and fabric bundle called AppleCare + and a maintenance package called Apple ProService that includes both complimentary telematic updates and physical inspections of tires, suspension, etc. ProService will include an interior and exterior detail. They will not offer to etch the VIN number on your vehicle windows or fill your tires with nitrogen for $395.
What else can dealers do?
Declutter the showfloor and declutter some more. The biggest opportunity is salesperson work spaces. Whether you have assigned desks or open seating areas, take everything off the work surface other than what is needed to complete the transaction which in most cases is just an electronic device. Remember this is a theater, not a back room sales boiler room. The car is the star and any messaging should reflect the dealer and OEM brand not the personal life of the sales person.
Pay attention to lighting. Observe the lighting in an upscale clothing store or jewelry store. The mood that is created makes the environment more inviting and the product more desirable. There may not be a better way to give your showroom an improved feel than lighting. This is auto theater and lighting creates suspense and visual focus.
Train salespeople (specialists) on product knowledge and empathy. Shoppers want to talk to a product expert…who cares. Yes, we are going to ask them to commit to purchase and take it home today, but only after we understand them and provide expert advice. It's an old theory but still true. Hire nice people and teach them to sell cars rather than hiring sales people and teaching them to be nice.
Today the single biggest complaint car shoppers express is "why does it take me so long to give you my money after I have said yes?" Put the cash register in the hands of the specialist. We've all experienced how quickly an Apple Specialist can transact a sale with the electronic device on their belt. This is what we have created at FUSE Autotech. FUSE is a finance management system (FMS) that resides on a Surface Pro, iPad or laptop that empowers one person to take the transaction from start to finish. It's flexible. If you prefer a traditional sales model with finance managers your customer benefits from staying on one screen from online or in-store engagement to e-signing documents. Trust is built when the figures remain the same and are displayed on the same app from beginning to end. Our vision is a mobile point-of-sale system in the hands of every sales specialist who can provide information and transact sales quickly, accurately and efficiently.
Resources for Thinking about Future Retail